At Fort Vancouver, the historical interpretation garden managed by the National Park Service and spanning a half-acre symbolizes a glimpse of Clark County's agricultural history. The Fort's English kitchen garden began about 1826 during the Hudson Bay Company's (HBC) period, from 1825 and 1860. Hudson's Bay Company was a vast fur-trading operation under Chief Factor John McLoughlin that stretched from Northern California to Alaska. Eventually, the garden would cover 6-to-8 acres north of the stockade and feature walkways, fruits, vegetables, herbs, roses, dahlias and other flowers. In addition, the garden was a prominent place for cultivating plants and purposely encouraging plants to grow.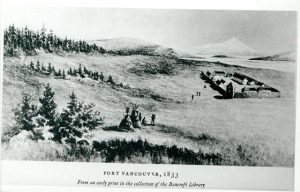 "Fort Vancouver gardens are a snapshot in time of globalization for this community," explains National Park Service Ranger Justine Hanrahan. "Two hundred years ago, as you would walk into the Fort Vancouver Garden, they would want to make an impression of the global influence of this garden."
It is important to remember that Fort Vancouver was originally a British commercial enterprise built and maintained by the HBC as its headquarters and supply depot west of the Rocky Mountains. This is significant because the HBC influenced the economic, political and cultural development of the Pacific Northwest. For example, McLoughlin recognized the enduring enterprise of agriculture. This meant that agriculture was essential to the HBC and Fort Vancouver. "It was part of the British culture to have these gardens," says Hanrahan. "They also hoped this would become British land."
Hanrahan emphasizes elements like McLoughlin's house and garden were built to impress visitors. "Visitors to the Fort," shares Hanrahan, "would see how well-established Fort Vancouver was and impress upon them to become a British land—this was the point of the garden."
According to an article by James Pestillo retired volunteer for the Clark County Historical Museum, by 1845, Fort Vancouver's agricultural holdings grew to include thousands of acres of pasture, 1,400 acres of cultivated fields, a 5-acre orchard, thousands of livestock, and field crops. But, despite this growth, Pestillo writes the produce from the kitchen garden and orchard had no commercial value and was not recorded. It was rarely sold and did not add to the HBC's wealth because it primarily fed staff and their families within the stockade walls. The HBC further shared the garden's abundance by providing seeds and cuttings for local Native Americans interested in agriculture and, later, American settlers to the region.
Historically Authentic Crops at Fort Vancouver Garden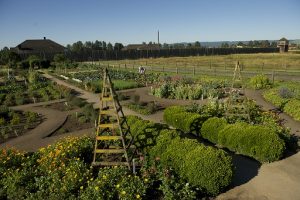 Many dedicated National Park Service volunteers and living history interpreters maintain the garden. "I do a lot of research," says Nancy Funk, lead volunteer for the historical interpretation garden at Fort Vancouver. Funk is also in charge of the historical kitchen at Fort Vancouver. The products grown in the reconstructed garden are used in historic cooking demonstrations. This includes using seasonal vegetables, fruits, and herbs, and cooking and preparing food aligned with the historical timeframe. "We want to keep the garden as accurate as possible to what Dr. McLoughlin grew in the 1840s," she says.
Funk explains that some of the field crops, such as wheat, oats, corn, potatoes, and barley, to name a few, that were part of the thousands of surrounding acres are also in the garden. "This way, the visitors can get a true picture of what was grown on the property of Dr. McLoughlin," shares Funk. "A lot of people have never seen these things growing, so we want to keep it as historically accurate as possible with not only specific items but the varieties, including peas, tomatoes, or any of the vegetables, flowers, and fruits that were heirlooms grown back in that time."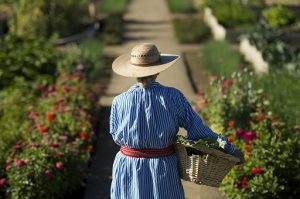 The garden's layout mimics that of the past too. For example, when you walk into the garden, you will find strawberries along the edges of the beds, just like in the old days. Historic herbs include lemon balm, rosemary, sage, thyme, and borage, an herb with a flower that, Funk says, is a very big attractant to bees, particularly the native bumble bee. "In the 1840s, there were no honeybees introduced in this part of the country," reflects Funk. "So, all the honeybees were European or Italian. None of them had been introduced to the Pacific Northwest." There are three rare quince trees in the garden as well. Quince looks like a gnarly pear with fuzz and was quite common in the 1840s. "They did have a huge orchard east of the garden too," shares Funk, "with all types of fruit trees on it." There is an apple orchard still there today.
McLoughlin, according to Funk, had progressive agricultural ideas. He engaged in crop rotation practices and took immense pride in the garden and its abundance. "People couldn't just wander through the garden," explains Funk. "You had to be invited."
Today, the Fort Vancouver Historical Garden is a beautiful place to visit. You may also get to encounter volunteers tending the garden. Feel free to ask any questions about the garden's history or gardening in general. The volunteer gardeners are an excellent resource for learning more about keeping a garden healthy and productive.