For 4-H and FFA members, the Clark County Fair represents the crowning moment for all their hard work the past year. They get to show of their projects to the public and the judges. Regardless of the ribbon they earn, the youth create incredible lasting memories they will cherish forever. Sharing triumphs and disappoints with follow members, long days of hard work and the struggles that come with competing are just a few of the things they learn at fair. Meet Evie Schubach, one Clark County 4-H member who is excited to finally be back.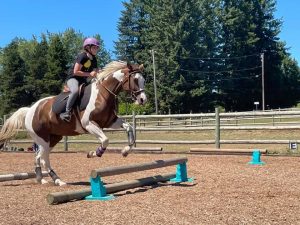 Evie is the daughter of Nicholas and Dione Schubach and a member of the Ravenna Riders 4-H group, run by Amanda Ableidinger-Ravenna. Amanda tries to make 4-H as affordable as possible for her club, driving club members to and from practices, leasing out her own horses and coming up with unique fundraisers to cover the costs of showing. Evie has been involved in the club for four years.
"I wanted Evie to learn responsibility for her project animal," shares Dione, on why she got her daughter involved in 4-H. "I wanted her to be part of a team, learn horsemanship and sportsmanship, do community service and have the opportunity to make friends with other kids who had the same interests."
An incoming seventh grader at St. Joseph Catholic School, Evie echoes her mother's last sentiment. "I already had horses and wanted to make friends," she adds. And she has definitely done that. The Ravenna Riders 4-H club is made up of friendly, caring and helpful youth that are a wonderful representation of what 4-H stands for, whether at a 4-H event, or an open horse show.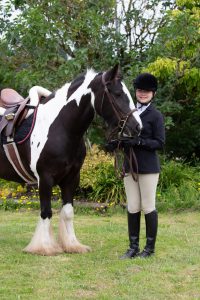 Evie's personal horse is Tilly, an 11-year-old paint mare. She also leases a 7-year-old gypsy named Infinity from Amanda. All of Amanda's 4-H horses are gypsies, a small feathered draft breed from the U.K. With her two horses, Evie competes in a lot of disciplines. "I ride primarily English, but also some western pleasure and ranch riding," she says. "I like jumping and dressage best."
Horse showing has its ups and downs. Your hard work can pay off, but sometimes you or your horse just have a bad day showing. But that just makes it all the better for learning those important life lessons, including disappointment and how to brush yourself off and try again another day. While riding is often a highly individual sport, that can be quite catty, 4-H gives youth riders a place to build a support team and learn good sportsmanship. "4-H has taught me how to be part of a team," Evie shares.  "You get to work with everyone in your club to help each other out."
Evie can't wait for the Clark County Fair. "I'm very excited for educational day!" she shares. "I love horse bowl and hippology." Horse bowl and hippology are both contests that test the 4-H members' equine knowledge.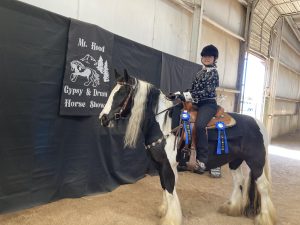 While she is excited, she also knows from experience how much work it is. "It's very hot during the day and we are there as soon as the sun rises until past dark," she says. "It makes for very long days."
Head to the Clark County Fair August 5-14 to see Evie and meet her horses. Be sure to ask the 4-H and FFA members you meet about their projects, they love to talk about them!
For more information about joining 4-H in Clark County, visit the Washington State Extension Office website.