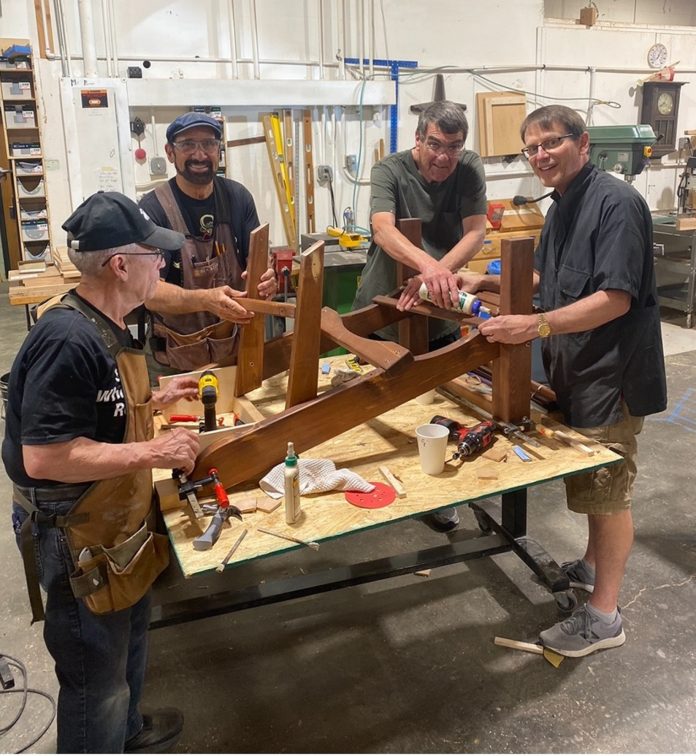 For vulnerable community members, including homeless and disabled individuals, Friends of the Carpenter, a faith-based, nonprofit day shelter in West Vancouver, is a friendly, accepting place where they're welcome to hang out, share conversations with caring people, enjoy coffee and maybe a snack, and even take a shower and get their clothes washed.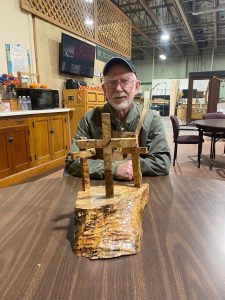 "Wow!" is often the first response from people who visit.
For volunteer woodworkers, the organization's 3,000-square-foot woodworking shop – with every professional-quality woodworking machine and tool you can imagine—is a place to share camaraderie with other woodworkers while crafting and collaborating on gorgeous products.
Most of their work, which ranges from bottle stoppers to Adirondack chairs to huge live-edge conference tables, is sold to support the organization's programs. Some of their products can be viewed and purchased at Main Street Trader in downtown Vancouver. You can also special order products, produced to your specifications.
Friends of the Carpenter's Day Shelter is One of a Kind in Vancouver
"Our organization is one of the last day shelters in the Vancouver area, "says Wendy Wright, president of the organization's Board of Directors. Tod Thayer is the executive director. "We're located in a low-income part of West Vancouver where there are other social services providing transitional housing, food distribution and counseling. That lets us focus on what we do best, which is offering a safe place, out of the weather, where vulnerable members of our community can spend daytime hours." Open House Ministries, Community Kitchen and Lifeline Connections are located nearby.
The shelter is open from 9 a.m. to 4 p.m. on weekdays, and Wright says they're considering expanding those hours to include Saturdays. "That would make the shelter more accessible to people who are busy during weekdays."
Activities at the shelter include daily devotions from 9:30 a.m. to 10 a.m., with songs, spiritual messages from local pastors and prayer. A variety of faith-based churches and organizations participate in the programs. Weekly programs include Bingo; a class in knitting, crocheting, quilting, and needlepoint; Show and Tell, when woodworkers gather to discuss their projects; and a tool sale once a month.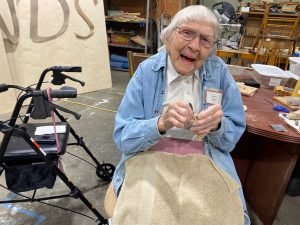 "When our woodworkers pass away, their woodworking equipment is often donated to us, which explains why we have such an amazing selection of high-quality tools," says Wright. "Since we don't have unlimited shop space, we sell some of the donations to support the organization."
Pandemic and Fire Set Friends of the Carpenter Back a Bit
As with many programs, Friends of the Carpenter came to a complete standstill for 16 months during the pandemic. The shelter finally reopened in May 2021, only to experience an electrical fire in the building a few months later.
"We didn't have much fire damage, but the sprinklers came on and that caused a lot of damage," says Wright. Thanks to a bequest from the Elizabeth and Leonard Cebula family, the organization was able to do a major renovation of the building, including adding a memorial prayer room and their first-ever laundry and shower trailers.
Getting people to the shelter is one Friends of the Carpenter's current challenges, says Wright. "Many community members who could use our services are in downtown Vancouver, with nowhere to go during the day except libraries and parks. We would love to have them come here, but the bus stop that used to be on Mill Plain and 20th, a few blocks from our facility, was eliminated during the pandemic."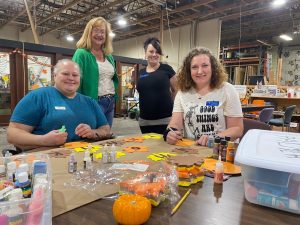 Friends of the Carpenter does have a passenger van that was donated by Open House Ministries, and they're working on finding the best way to put it to use to help people get to the shelter."
Volunteer and Donation Opportunities Abound at Friends of the Carpenter
Friends of the Carpenter only has two full-time and three part-time staff members, so volunteers are the driving force, and heart and soul, of the organization, says Wright.
No matter what you like to do – whether it's woodworking projects, planning special events, helping with marketing or transportation, handing out towels and soap at the shower trailer, or helping run the laundry facilities – there's a way to volunteer at the shelter, and a welcoming group to celebrate your contributions. To learn more, call 360.750.4752, drop by the shelter, or fill out the volunteer interest form and submit it via email.
As for donations, they're always needed, says Wright. "We have 22 church partners in the area that promote our services and tithe to our organization, but our finances were hit hard by the pandemic and we're still recovering. We know that Friends of the Carpenter isn't going to change the world, but providing a hot shower, clean underwear, and a friendly place to spend the day is a good place to start."
You can donate online or mail your donation to 1600 W. 20th Street, Vancouver 98660.th