Leah Jackson, Vancouver artist, traveled the world and enjoyed fine wine and intimate bistros with a bit of character. When she looked for that in her hometown, "no one was opening a wine bar, " she said. As her gallery, Angst, on Main Street became popular, she joked with her partner, Todd, that if they could just sell beverages to people who came to look at art, relax and talk to her, "I could actually make a viable business."
A Dream Becomes Reality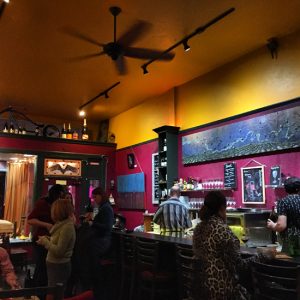 When the space next to Angst Gallery became available, Leah knew that was a positive sign that she should turn her dream of a Vancouver wine bar into reality. She drew up a business plan, secured funding and even built little bottle niches for individuals who wanted to join her wine club and support her first year. That was in 2010 and now Niche Wine Bar is known as a warm and friendly place where like-minded people gather to relax and enjoy Leah's carefully curated wine selections and bistro food.
When you walk through the door into Niche Wine Bar, you walk into a setting that could easily be in Rome, Paris or Berlin. People associate the look with places they have been and loved. The curtained front window adds light to the warm golden and eggplant wall colors. The large paintings by local artists add a bit of intrigue and whimsy. Guests sit at small bistro tables, larger community tables and the long bar. In the back, an impressive wine and champagne collection dominates the room. Niche has a cool, European vibe…. just as Leah envisioned. She added, "I wanted a place unique to Vancouver with fine wine and delicious food… a casual, comfortable place."
Bistro Food and Special Events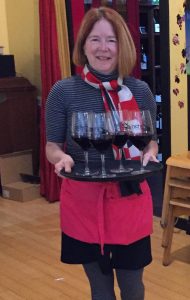 Niche Wine Bar offers 160 wine selections by the bottle, and more than 30 selections by the glass and half glass. Not sure what you would like? Try a tasting flight.
Niche serves salads, sandwiches, charcuterie plates and small desserts. The food is created to be paired with wine, of course. A favorite is the Niche Sandwich made with salami, roasted tomatoes, smoked mozzarella, on ciabatta. It is usually served with marinated fava beans. And then there is the decadent savory Tarte, with gruyere and smoked prosciutto heated on a rich, flaky round crust imported from France.
Not a wine drinker? You might find French cider interesting. Coffee and tea are always available, too. Leah said, "I am a long time tea lover and so will be adding a rotating selection of their teas to my menu."
But wait, there's more! With Chef David Hickenbottom of Vancouver joining Niche Wine Bar, special events became even more delightful and elaborate. Watch the Niche Facebook page for special events like the annual Beaujolais Party and the Wednesday Hump Day Rosé with delectable food and wine pairings. Fourteen different rosés are available to enjoy by the glass or flight.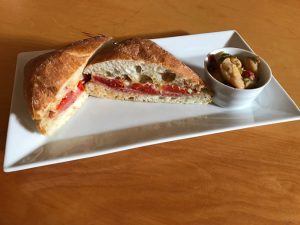 Chef David's passion is menu planning. He sources locally and is very creative. David and Leah work together to put on special events, catered off-site. I attended a fundraiser that they catered and I have to say each course was both beautiful to look at and delightful to eat. Each course was paired with a fine wine and Leah was there to explain the pairing and tell us about the wine.
Angst Gallery
It doesn't hurt a small wine bar to have adjoining extra space. Angst Gallery rotates art by local artists each month. There are cases of art jewelry to buy and even a mini-shop for art supplies.
Angst Gallery is often used for special events, parties and classes. Poet Chris Luna offers monthly Poetry Nights. Gallery space is made available for non-profits organizations.
Taking Wine Seriously
You might wonder how Niche became such a special destination for wine lovers. Well, Leah spends hours meeting with eight different wine suppliers tasting wines to get the best bottles for Niche. Each wine is carefully selected by Leah. And she backs up her choices, "If they don't like the wine, they can bring it back."
A Sense of Community
Leah's vision of a place where people feel comfortable has played out well. Niche has a friendly atmosphere. The staff chat with customers and get to know their names. People at the bar and community tables, young and old, male and female, chat easily with each other, making friends over a glass of wine. Leah plans to have a sign… "The only labels here are on the wine."
You might see Leah's family members pop in as well. Several years ago her teenaged son and his jazz ensemble entertained at Niche.
Leah has a greater vision too. She would like to see downtown Vancouver attract people who come to spend the day or the evening. Right now people tend to come and do one thing… have wine at Niche, or go to a movie or dinner. Leah says, "We need a vibe where people come and do several things." I've felt that vibe on First Friday Art Walk evenings. People tour the galleries, have beer or wine and then stay for a late dinner and music.
Niche Wine Bar is located at 1013 Main Street next to the Kiggins Theater and is open Monday and Tuesday from 4:00 p.m. to 9:00 p.m. and Wednesday through Saturday from 4:00 p.m. to 10:00 p.m. Find Happy Hour pricing from 4:00 p.m. to 6:00 p.m. Monday through Friday.