It all started with a panini press and an outdoor grill.
In 2007, Deb Belden took over a tiny coffee house in Felida and named it Farrar's Bistro. It was just 800 square feet back then and didn't have a commercial kitchen. "We used a panini press to grill our vegetables, and we used a Traeger barbecue in the back to cook fish and meat. For the first five years that's how I built my business," recalls Belden.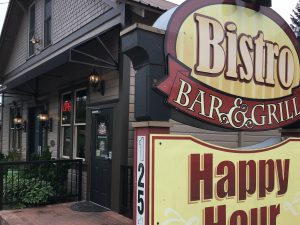 After building Farrar's from a tiny deli hidden in the back of the building – "I'm surprised people could even find us," she remembers – to a hugely successful, 3,000 square foot bistro and bar, Belden wanted to expand her love for serving people through food to a new environment. She describes Farrar's humble beginnings while seated in the sparkling new dining room of Sixth Avenue Bistro, Hazel Dell's newest – and freshest – restaurant. Belden opened Sixth Avenue Bistro in August at Hazel Dell Marketplace, a burgeoning retail and restaurant complex at the corner of NE 78th Street and Hazel Dell Avenue.
Sixth Avenue Bistro sports an upscale, urban vibe, with cement floors, abundant seating and a wide-open feel. The restaurant features the same "clean cooking" concept Belden developed at Farrar's. "It means we don't use prepackaged foods. Everything is fresh. We don't use any prepared sauces, and we make our own rubs. We pull very few things out of the freezer besides ice cream and the kids' corn dogs. Everything else is from scratch."
It's also locally raised and grown. Meat, produce, cheese and seafood are all purchased from local sources. "Everything is from the west coast, except for our lobster. We fly in a Maine lobster for our Lobster Mac & Cheese," shares Belden.
In addition to the lobster mac, the menu features certified Angus beef burgers, short ribs, fresh seafood, and a wide variety of tasty appetizers and farm fresh salads. Behind the bar, you can choose from an eclectic mix of hard-to-find wines and original cocktails. "The Hazel Dell Breeze has been really popular," says Belden. "Basil is infused into a simple syrup then shaken with fresh muddled orange, gin and tonic."
Belden's entrepreneurial spirit was sparked early in life, when as a child in Southern California she would pick avocados and lemons from her grandfather's backyard trees and peddle them door to door. Her restaurant career kicked off when she helped launch Hayden's Lakefront Grill in Tualatin with former Oregon State and NBA basketball star Charlie Sitton. "I did the sales and catering, Charlie did the hotel part, and we had Bill Hayden, who was the restauranteur," says Belden. "That's where I really got my feet wet in this business."
After seven years at Hayden's and seven more heading up sales and catering for Vancouver's Royal Oaks Country Club, Belden jumped at the chance to build her own restaurant in her own way. Despite its unspectacular beginnings, Farrar's has gained a loyal following in Felida.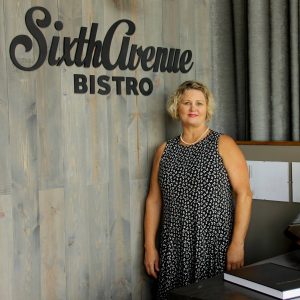 "Some people don't immediately understand what clean cooking means, but when they find out that we source locally and that we make everything from scratch, they can tell the difference in the food," says Belden. "I like to say, 'taste and see the difference.'"
Both of Belden's bistros are involved in the Healthy Neighborhood Restaurants program, a partnership between local restaurants and the Clark County Health Department. They promote healthy dining by offering half-size portions on all entrees. "And on our kids' menu, instead of offering soda and fries, we offer fruit and milk," she adds.
Sixth Avenue Bistro offers a dining experience that has been largely missing in Hazel Dell. Although the area is booming, it's been overrun in recent years by fast food restaurants and large national chain establishments. "We're a little more upscale," says Belden. "We really pride ourselves on that."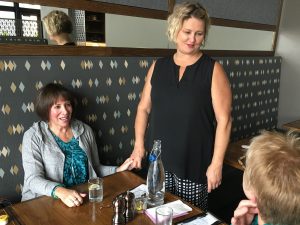 As Belden sums up, "We're trying to create this belief: why go across the bridge when you can get the same good quality food here? Come out. Taste and see what we're about. Before crossing that bridge, give us a try."
Visit Sixth Avenue Bistro at 7904 NE 6th Avenue in Hazel Dell. For information, visit www.6thavenuebistro.com or call 360-718-8028.