Artist Kelly Keigwin creates pottery and recycled art pieces with unicorns, narwhals and fanciful monsters. None of them are scary. In fact, her art helped her deal with a scary time in her life when she was being treated for cancer.
Art is Life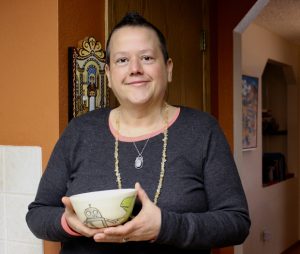 It all began with recycled art, collages made with discarded plexi-glass, robots screen-printed on wear-softened t-shirts and images of happy birds and chickens. Keigwin has taken some classes and studied with her wife, Sam MacKenzie, who is a pottery instructor. But, after she learns a little bit, you'll find her taking off in her own direction. Whatever she creates, it's uniquely Keigwin. She's an art rebel, never following in anyone's footsteps, yet appreciating the work of other artists.
To Keigwin, her art comes from her being. Just as she has grown through stages and experiences in her life, her art and art forms have changed and evolved over time. Keigwin shares, "Having 50 years on this planet provides me with an array of life experiences to draw from."
Keigwin strives to be joyful, so her art reflects that attitude. But there were times that tested her strength and resolve.
Enter the Unicorns
In the spring of 2014, Keigwin received the shocking diagnosis of cancer. It was serious — stage 3 Endometrial cancer. In her blog, Fear is a 4 Letter Word, she eloquently describes her journey back to health. Keigwin wrote about the diagnosis and treatment with its associated emotional ups and downs in detail. Keigwin wrote, "Now is the time for throwing everything at this. I'm at a crossroad and have to decide if I want to do everything I can to stick around, or if I want to half-ass it and hope for the best." Keigwin decided to fight.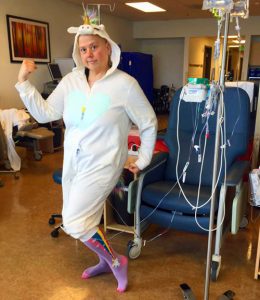 During this tough time in her life, she took on the role of cancer fighter. With a supportive wife and friends, her unique fight took on a life of its own. As she settled into the routine of cancer treatment, side effects and doctors' appointments, she coped with humor, introspection and by helping others. Friends suggested "theme days" during treatment. On one day everyone wore tiaras. Even the oncologist got into the spirit and donned a tiara with them for a photo.
One day, a nurse at Compass Oncology, obviously a fan of Keigwin's quirky coping skills and sense of fun, gave her a unicorn pajama onesie to cuddle into when she was having treatment. Keigwin responded to the gesture positively and recalls saying, "Oh, I would wear that!" And she did. She began putting it on for chemo and walking around the treatment area. Patients smiled, even those who were withdrawn and who tried to pretend they weren't there.
Keigwin explains, "The unicorn was never my spirit animal, but it became a symbol." She started incorporating unicorns into her pottery and mixed-media art and, as she worked her way back to health, the unicorns became an important part of her life.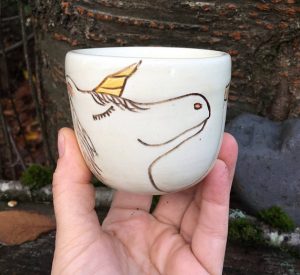 Keigwin fought cancer by carefully adhering to the regimen prescribed by her physician, but added in dietary changes, healing essential oils and other non-traditional therapies. This magical combination — coupled with her determination — resulted in a clear scan in July 2017. She still goes in for periodic treatment and deals with side effects such as headaches and backaches, but that doesn't hamper her creativity and drive.
People Resonating with the Art
These days Keigwin and MacKenzie are having some trouble keeping up with demand. Even so, they believe in giving back to the community, so they do things like make 150 soup bowls for the Share of Vancouver fundraiser. This is labor intensive because each bowl is unique, with a special animal or character on it. They try different things and focus on what resonates with people.
Keigwin actively markets their pottery, recycled art and screen prints at art shows like the Buckman Art Show & Sell in March, the Oregon Potters Association Ceramic Showcase in Portland in April, the Recycled Arts Festival in Vancouver in June and at pop ups you'll hear about if you follow their website.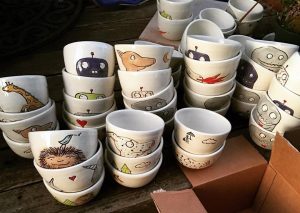 A great place to find some fanciful coffee cups embellished with chickens, narwhals, "resist kitties," chirping birds and giraffes is at the Mon Ami Coffee Shop on Main Street in Vancouver.  They have a shelf of the pottery for sale. And, of course, you can find the art of KeigKenzie Studio online.
What's next for Keigwin's art? It's hard to say because she has so many irons in the fire – writing projects, essential oils, a speaking engagement and genealogy research. But right now, she's finding that paper figures with a watercolor wash on recycled wood is resonating with her fans. She's added these multi-media pieces into her pottery offerings. Additionally, other artists are challenging Keigwin and MacKenzie to create larger works.
One piece that Keigwin created recently was a large bowl with a circle of animals and other beings holding hands. The fanciful representation of diversity and connection resonated with me.

Keigwin summarizes, "At the end of the day, I create to communicate, to connect with others. Whether I'm writing, creating artwork, talking about essential oils and natural wellness, sharing knowledge and experiences or simply living my life, it's the same voice, from the same core being."