Union High School junior Danny Snediker felt slighted as he headed into Mat Classic XXX.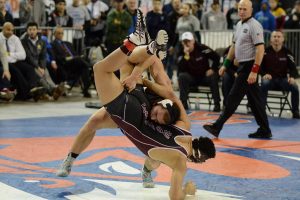 Despite a strong fifth place finish at 145 pounds last year, Snediker entered the state wrestling championships ranked a seemingly low sixth in the state among 152-pound wrestlers in the 4A classification.
Don't expect him to be overlooked next season.
Snediker put on a dominating performance, cruising through his bracket and defeating Mead's Cameron Crawford to win the 152-pound state title at the Tacoma Dome on February 17.
"I just had to get that fire in me because they ranked me sixth the whole year," Snediker said. "And I came in knowing I was going to do way better than anyone expected."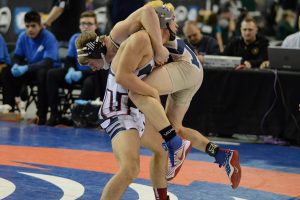 Snediker was one of three Clark County wrestlers to take home a 4A state championship. He was joined by Tanner Craig, a 132-pound junior from Camas High School, and Skyview High School senior Jackson McKinney, who captured the 195-pound crown a year after claiming a second-place finish.
After pinning Kamiak's Guage Holland in the first round (2:32), Snediker faced Curtis High School junior Adrian St. Germain, a 1A state champion last year in the 152-pound weight division while at Vashon Island, in the quarterfinals.
Snediker put away St. Germain, who entered the tournament ranked second in the state, with a 6-2 decision. He then dominated Tahoma senior Gunner Starren, ranked fourth in the state, in the semifinals by a score of 12-1, setting up his finals match with Crawford, who chalked up a few upsets of his own along the way as the junior knocked off the division's top-ranked wrestler, South Kitsap's Sebastian Robles, in the quarterfinals.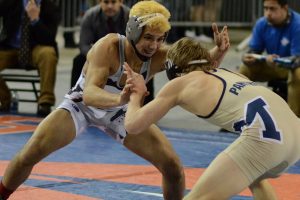 In the finals, Snediker raced out to a quick lead, overpowering his opponent from the state, before going to post the 8-4 victory.
"My mindset this entire tournament was 'my next match was going to be my best match,'" Snediker said. "I think the finals was a top-level performance. I would have liked to been more confident and got my angles in, but I was a little stressed out because it was the state championship."
In addition to Craig's triumph at 132, Camas had four wrestlers place at the 4A tournament, helping the Papermakers finished fifth as a team – the program's highest finish since 1986.
Five Camas wrestlers advanced to the semifinal round with junior Jack Latimer (125) and senior Samuel Malychewski (195) collecting third-place finishes and senior Rylan Thompson (132) and sophomore Gideon Malychewski (160) each earning fourth.
Craig edged Sumner's C.J. Richmond, 2-1, in the 132-pound finals. The division nearly saw an all-Papermaker championship with Craig and Thompson, but Richmond ended that possibility with his 7-2 semifinal victory over the latter.
McKinney, who lost in last year's 182-pound finals by a score of 5-4, became Skyview's first state champion after his convincing 6-2 victory over South Kitsap senior Izaiah Davis in the 195-pound championship.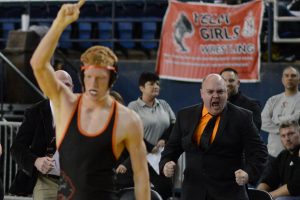 Mountain View had three wrestlers place in 3A with Noah Messman (106 pounds, fifith), Alton Culver (182, fifth) and Alex Ferruzca (285, seventh) ending their seasons with medals.
Tanner Lees of Washougal became the first Panther since 2009 to win a state championship when he rallied late to pin Weston Lyver of White River to take the 145-pound title in 2A.
Woodland received 2A medals from Judeah Sanders (106, sixth), Josiah Sanders (113, fifth) and Jacob Flanagan (195, seventh), while Hockinson 145-pounder Dale Anderson finished fourth and Ridgefield's Dawson Lieurance picked up fifth place at 220.
Girls Wrestling Results
The Union High School girls team placed a program-best four wrestlers in the top eight, bettering last year's benchmark of three state placers, to finish second overall in the team standings.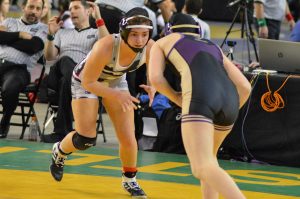 Yelm won its second straight girls team title, finishing with 108 points. The Titans collected 77 points, while Kentwood was third with 66.
Krista Warren became the first Union girl to compete for a state title. The junior finished second in the 140-pound division, losing 6-4 to Sumner's Nicole Clark in the championship round.
Warren's classmate, Annabelle Helm, became a three-time state placer, collecting a third-place finish at 145. The Titans also received a fourth at 145 from sophomore Nevaeh Cassidy, who dropped a 9-1 match to Helm in the placing round.
Riley Aamold rounded up Union's stellar performance as she capped her sensational freshman campaign by earning a fourth place medal at 130 pounds.
The Hudson's Bay girls' team registered its first state champion after sophomore Allison Blaine defeated Kiara Pierson of Sequim, 4-2, to win the 135-pound title.
Rounding out the list of local state placers in the girls' division was Woodland's Ashlyn Daugherty (100, third), Skyview's Hikaru Abe (105, third, Seton Catholic's Amanda Fry (170, seventh) and Washougal wrestlers Jaden Robb (105, seventh) and Brooklyn Wurn-Wertz (140, fourth).