H.J. "John" Luke is a big-hearted, brave and lucky man—and not just because he survived 31 missions as the ball turret gunner for a WWII B-17, or Flying Fortress. He's also lucky because of a revolutionary new procedure offered at PeaceHealth Southwest Medical Center called TAVR, or Transcatheter Aortic Valve Replacement. PeaceHealth is the only place in Southwest Washington to offer TAVR, notes Dr. Nathaniel Boyer, an interventional cardiologist at The Vancouver Clinic.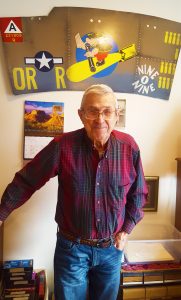 Luke was under Boyer's care when he started complaining of dizziness and breathlessness, hallmark symptoms of aortic stenosis—a potentially lethal condition in which the aortic valves break down, inhibited by calcium deposits. It's common in older patients, but their age means that a lengthy open heart surgery, requiring a sternotomy and six weeks of recovery, is out of the question. Luke, who was 94-years-old but otherwise in vigorous good health, was a perfect candidate for TAVR. In fact, he'd recently completed his 32nd flight in a B-17—a restored version of Luke's plane that came to Aurora, Oregon, as part of the Wings of Freedom tour.
"Here's a guy who, otherwise, is remarkably viable—out there, still tearin' it up, and having a great quality of life—whose life was being really impacted by this disease process," says Boyer. When Boyer told Luke about TAVR, which takes about an hour and would allow him to recover in just a couple of days, Luke was immediately on board. "I'd been going to see Boyer, and he's one of the nicest and best doctors," Luke says. "I like him. He's very nice and very knowledgeable. He was one of the specialists that does TAVR. There's not too many of them in Vancouver that do it." Another bit of good fortune in Luke's long and remarkable life.
A Vancouver Boy Leave his Mark in History
Luke was 11-years-old when his family relocated to Clark County after being forced to leave their dust-storm-ravaged farm in South Dakota. He graduated from Vancouver High School in 1942, about six months after the attack on Pearl Harbor. He was one of the first students at the brand-new Clark College when his draft number came up. He wanted to be a pilot with the Air Corps (as the Air Force was then called), but there was a two-year waiting list. "I had to choose something else in the Air Corps," explains Luke. "So I said, 'Well, I wouldn't mind being an aerial gunman.'" He chuckles wryly, "I didn't know it was so dangerous!"
He was sent to Bassingbourn air base in England, where his crew nicknamed their bomber the Nine-O-Nine (the last three digits of its serial number). It became one of WWII's most famous planes. "It completed 144 missions over Germany," says Luke. "It had 600 holes in it when it got through, but it was never shot down." It's the stuff legends are made of, but Luke is quick to say that it was a rough ride.
"It was a terrible job," recalls Luke. "It was 40 to 60 below zero in the turret, and we had a lot of clothes on and a parachute. Planes were going down all over." Ultimately, he's philosophical about his experiences in the war. "That's the story of a guy's life!" he quips, as though it's nothing unusual. Luke keeps a friendly reminder of his time in the sky: a flattened section of Nine-O-Nine's forward fuselage—a faithful copy, complete with rivets—hangs on his living room wall. Below it hangs a picture of Luke, just 21-years-old, and his crew.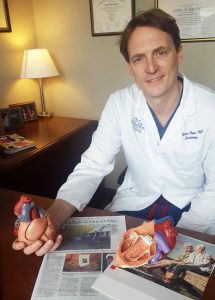 Almost 75 years later, Luke still isn't ready to rest his wings. He leads an active life at Van Mall Senior Living Community, and stays in close contact with his sons, grandchildren and great grandchildren. He's an enthusiastic conversationalist with an easy laugh and lots of stories to tell. "He's a fascinating guy," says Boyer, "and it's been really fun to get to know him over the years."
It's because of this long-term relationship that Boyer understood when it was time to intervene with TAVR—even though, in terms of treatments for heart disease, it's a relatively new procedure. Dr. Boyer gives credit to PeaceHealth Southwest Medical center for being an early adopter of TAVR. "I definitely think that for PeaceHealth to support an endeavor like this is a major undertaking, but there's no doubt that this therapy has proven itself time and time again," adds Boyer. "It was incredibly wise of them to adopt this, because this is a huge community." Once again, Luke was in the right place at the right time—exactly on target, you could say.
In the end, this is the story of a caring community of skilled healthcare providers, sharing their knowledge and expertise to give a patient the best possible outcome. It starts with a doctor who understands that every patient is a person with a unique story. The happy ending for John Luke isn't just that his stenosis has been cured; it's that his compelling life story now has another chapter. "I'm gonna be 95 in three or four more days," he grins, "but I feel good!"
Sponsored