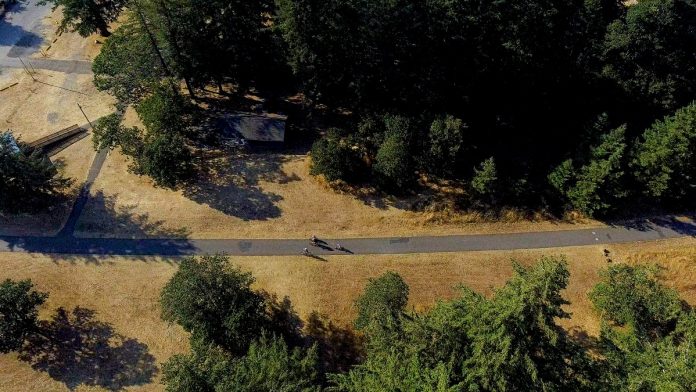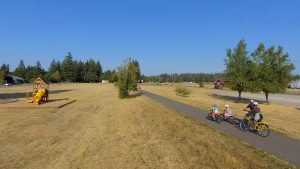 I don't know about you, but when I think about biking I reminisce about warm spring and summer days. But, don't pack away your bicycle and helmet just yet. Sure, the days are shorter and often wetter, but autumn is arguably the best time to get out there and go exploring (especially if you have been trapped inside by the weather)! There is just something so invigorating about the cool, crisp air and saturated colors this time of year. So why not grab the family and go on an adventure – equipment optional.
In under two hours you can be in Thurston County, home to our state Capitol and an abundance of trials and outdoor recreational options. Here you will find the 14-mile, paved Yelm-Tenino Trail, which connects the rural cities of Yelm, Rainier, and Tenino. Just over a 100 years ago it was known as the "Prairie Line" by the Burlington Northern Railroad. Now the well-maintained trail offers recreational users a unique and decidedly different way to access Thurston's "Bountiful Byway." Riders traverse forests, wetlands, and other agricultural gems and experience some of the county's best kept secrets.
The Yelm-Tenino Trail is the perfect day trip for the whole family or date day with someone special. With several viewpoints, shops, and parks along the way, you can customize your experience based on the time (and energy) you have. And best of all, you don't even have to haul your own bike to enjoy the trail. Just pick up a bike at the Yellow Bicycle Project in Tenino, located at 213 Sussex Ave West.
Whether you take the whole day and travel 28 miles round trip, or take a more leisurely journey, Experience Olympia & Beyond has recommendations to help you think beyond the trail, to include places to stay if you want to make a weekend of it.
Family Fun Itinerary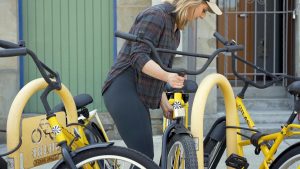 For this itinerary, we will start in Yelm. But if you plan to borrow a free bike from Tenino's Yellow Bike Project, you will want to follow this in reverse starting at the Tenino City Park on Washington Avenue.
At the trailhead behind the Yelm City Hall, located at 105 Yelm Avenue West, take advantage of the picnic tables (no one wants hungry kids!), information kiosk, and restrooms. If you go on Saturdays, May through October, you can make a stop at the Yelm Farmer's Market between 10:00 a.m. and 3:00 p.m. to stock up on fresh snacks.
Head toward Rainier taking in all the sights and sounds. If the group is feeling wiped out, stop in one of the great shops like Main Street Cookie Company for a quick treat. From here continue to a sandy beach between mile marker 7.5 and 8. This is about the half-way mark and a great place to stop and let the kids play or turn around if a 28-mile roundtrip ride is not in your plans.
But for those with the time and stamina to make it to Tenino, a visit to the Tenino Depot Museum, and on a warm day, the Tenino Quarry Pool (seasonal), are well worth the stop before heading back to Yelm.
And finally, before heading home, one last stop the kids will really enjoy (if they still have the energy) is the bike park in Yelm.
Couples Date Day Itinerary
For a romantic day you won't soon forget, head to Tenino and borrow a free bike from the Yellow Bicycle Project (don't forget your water and a helmet). You'll find parking and restrooms at the trailhead located at the Tenino City Park on Washington Avenue. If you go on a Saturday between May and September, you can stop by the Tenino Farmer's Market between 10:00 a.m. and 3:00 p.m. to pick-up snacks for your trip.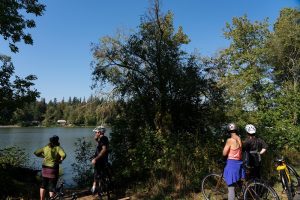 On the way out of Tenino, at about mile four, you'll pass by scenic McIntosh Lake. This is a great place to stop and stretch your legs and watch the herons fish. After several more miles, stop in Rainier for a pick-me-up. There you'll find several espresso and food options right off the trail to help fuel the last five miles to Yelm.
Once you reach Yelm it's time to rest and rehydrate before your return trip. Take a leisurely stroll or have a picnic at Cochrane Memorial Park and then continue to Uptown Lounge for a refreshing beverage. Or if you prefer a longer rest, maybe catch a movie at Yelm Cinemas. Once you've made your way back to Tenino, return your yellow bike and end your lovely day with a visit to the Scatter Creek Winery & Brewery.
No matter how you decide to spend your time on the Yelm-Tenino Trail, you are sure to create a unique and unforgettable experience. So, go ahead and make plans for your decidedly different day or weekend exploring the "Bountiful Byway." Experience Olympia & Beyond has great tips to help you plan this escape and more. Learn more on the Experience Olympia & Beyond website or give them a call at 360-704-7544.
Sponsored