Located in the middle of Drayton Harbor and Semiahmoo Bay, Semiahmoo Resort serves up stunning views of Peace Arch Historical State Park and the British Columbia city of White Rock. The scenic getaway is great for bird watching and viewing ocean wildlife – but that's not all; the resort offers year-round fun via its many seasonal programs. The best part? You can even enjoy these activities during the Pacific Northwest's rainy season.
General Manager Nicole Newton says Semiahmoo's versatility is what makes it great. It's a place for families, retirees, couples and newlyweds. And it's a place with a variety of activities, events and happenings, regardless of the season.
Need a massage? You got it. Want to watch a movie with the kids in an expansive movie theater? Yep, you can do that too. Or perhaps you want to have a nice meal, dining on original Pacific Northwest cuisine. You're in the right place.
In addition to these year-round activities at Semiahmoo Resort, there are specific seasonal programs. These events are very popular during the winter and fall months.
You don't have to wait for summer to take a vacation. Read on to discover eight events you won't want to miss this fall and winter at Semiahmoo Resort.
Thanksgiving Scramble
It's time for Semiahmoo Resort's Thanksgiving Scramble! You don't want to miss this competition on Saturday, November 24 from 11:00 a.m. to 1:00 p.m. The Thanksgiving Scramble is fun for the whole family and it's Semiahmoo's second time hosting the annual event. Participate in this relay race and get a chance to win some fantastic prizes. The Thanksgiving Scramble is complimentary to all overnight guests, and costs $5 for families not staying at the resort.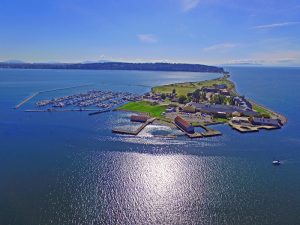 Winemaker Dinner Series
Gather at Semiahmoo Resort this fall and winter to take part in the Winemaker Dinner Series. This is your chance to taste notable wines paired with seasonally inspired menus. Each wine dinner features vino from a different winery. The Semiahmoo culinary team works with them to create each dinner's menu.
The Cline Family Cellars will host a dinner on Thursday, December 13.
Wreath Making
Tis the season! Come by Semiahmoo and join in a class to create your own wreath out of fresh pine, pine cones and more. Creating a wreath at Semiahmoo is a lovely way to remember your time there and, once you're done, you can take your wreath home and hang it up to celebrate the holidays. The wreath-making class at Semiahmoo lasts from 5:30 p.m. to 7:00 p.m. on Wednesday, November 21 and costs $30 per wreath.
Cadée Distillery Takeover
Cadée Distillery takes over Packers Kitchen + Bar at Semiahmoo Resort on Friday, December 14 from 6:00 p.m. to 8:30 p.m. Cadée Distillery crafts award-winning spirits, with a focus on innovation and creating unique American Spirits. The distillery is located on Whidbey Island and has won multiple awards since opening in 2013.
Gingerbread Houses
Making a gingerbread house is one of the most memorable holiday pastimes, and now you can do it during your stay at Semiahmoo Resort. Get ready to demonstrate your craftiness and join the gingerbread house-building party. Each participant will decorate their own mini gingerbread house. Graham crackers, frosting and candy are all provided. The cost for this event is $30 per gingerbread house. The gingerbread extravaganza will be held on Saturday, December 15 from 10:00 a.m. to 12:00 p.m. and Saturday December 22 from 1:00 p.m. to 3:00 p.m.
New Year's Eve Bash
It's been fun 2018, but it's time to move on. We're already counting down the days until 2019! Get those New Year's resolutions ready, don your finest attire and bring your best dance moves to Semiahmoo Resort's New Year's Eve Bash.
From 5:30 p.m. to 1:00 a.m. on Dec. 31, Semiahmoo Resort will be rockin' as they ring in the new year. The New Year's Eve Bash will feature dinner, a balloon drop, champagne toast and live music.
Tickets for the event are $75 for adults and $16 for children (6-12), while children under 5 are free. Don't want the buffet dinner, but want to come for the party? No worries, it's only $35 for entry after 9:00 p.m.
Semiahmoo Resort has a plethora of events and activities you don't want to miss. So take a break and make your holiday season truly merry and bright.
Semiahmoo Resort
9565 Semiahmoo Parkway
Blaine, Wa