The Rotary Club of Greater Clark County has a long history of helping curb food scarcity in our community. They sort food at the Clark County Food Bank once a month. They participate in the annual Walk & Knock food drive in Clark County. Recently they built five Little Free Pantries – like a community food bank in Vancouver – and have installed four of them so far.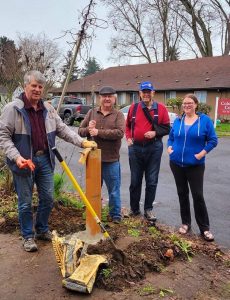 A Little Free Pantry is just like a Little Free Library, with nonperishable food – including peanut butter, pasta, and canned soups, refried beans, fish, and meats – rather than books. "Anyone can contribute food to the pantries, and anyone can take food," says Duane Sich, who spearheaded the project with Bob Chapman, both Rotary Club of Greater Clark County members. "There's no judgment involved, and the food is there for whomever needs it."
One of the Little Free Pantries is at Hazel Dell Elementary School, and Shanna Baird, family community resource coordinator, says it's hugely popular with students and parents. "Students often select a food item at the end of the school day to take home to their families, and parents 'shop' at the pantry too. I fill the pantry in the morning and it's usually empty within a day. Students help stock it too."
Other Little Free Pantries the Rotary club built and installed are at Mill Plain United Methodist Church, Orchards United Methodist Church, and in the Hough neighborhood in downtown Vancouver. The fifth pantry is slated for First Presbyterian Church.
"We've had our Little Free Pantry for about three years now, and it's become a focus of our ministry," says Sue Ostrom, pastor at Mill Plain United Methodist Church. "We stock it nearly every day with ready-to-eat foods like nonperishable tuna salad with crackers, fruit and pudding cups, beef jerky and bottles of water. About 90% of the people visiting the pantry are clearly living out of their cars and don't have access to a kitchen."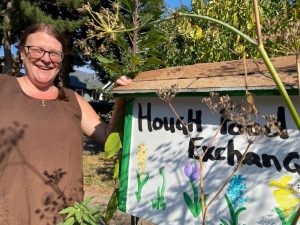 Eileen Cowen, a property owner in the Hough neighborhood, jumped at the chance to have a mini pantry near her house. ""The Rotarians installed our pantry in December 2021, and it's a big success," says Cowen. "It's stocked by community members a couple times a week, and has daily visitors – including kids playing at John Ball Park across the street, homeless people, and families who are trying to make ends meet."
Little Free Pantry Hosts Collaborate With Large Vancouver Food Banks
"The pantry in Orchards is located across the street from Friends of Service to Humanity (FISH), an emergency food and clothing bank," says Sich. "FISH is open during weekday business hours, and our Little Free Pantry is open 24/7. People who are hoping to get food from FISH and find that it's closed can just cross the street to get something to eat." Sadly, there has been some vandalism at the Orchards pantry, so it has had to be closed on occasion.
The fifth and still-to-be-installed Little Free Pantry at First Presbyterian Church in downtown Vancouver is a great location for several reasons, says Sich. "The church operates a large food pantry called Healthy Equitable Living Project (HELP) in its basement, and also has a preschool. We love the idea of the preschoolers being able to visit the HELP pantry, choose an item of food, and take it out to the Little Free Pantry to share with the community. It will be a wonderful hands-on learning experience for the kids."
Experience Building Little Free Libraries gave Rotary a Head Start with Food Pantries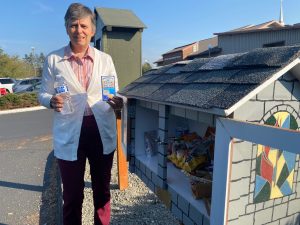 "About eight years ago, our Rotary Club built and installed 10 Little Free Libraries around Clark County," says Chapman. "We developed a design that used durable materials and construction details geared toward longevity in our climate. Kits were fabricated by a team of Rotary Club woodworkers, and individual club members assembled and decorated the kits in their garages and home shops." All of the libraries are still in use.
A few years later, another great idea sprung up among Rotary Club of Greater Clark County members: Why not adapt their Little Free Library concept for Little Free Pantries, featuring the exchange of food rather than books? After running the idea up a few flagpoles, club members were off and running again, and in 2018 a prototype of a Little Free Pantry was installed at Mill Plain Methodist Church.
The pantry kits were primarily fabricated by Rotary woodworkers at Friends of the Carpenter, a nonprofit organization that Sich founded, and – as with the little libraries – Rotarians assembled them at their homes and decorated most of them too.
"These projects have been a great way to involve many of our club members in hours of fun, creative, and team-building community service," says Chapman. "But the organizations and individuals who nurture and operate the Little Free Pantries are the ones most deserving of appreciation."